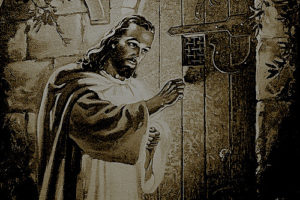 There's a story going around the Internet suggesting that some of us may not see or hear ourselves the way others do. It goes something like this:
Knock. Knock.
Who's there?
Jesus.
What do you want?
Let me in.
Why do you want me to let you in?
So I can save you.
Save me from what?
From what I'm going to do to you if you don't let me in.
I'm guessing this will strike some of us as irreverent and misleading. But could it also help us see and hear ourselves the way others do? Could it help us hear our "Good News" as we're telling it?
Those who laugh at the story might actually have in their mind the same mental picture as we do—the one of Jesus standing at a door knocking. It seems to suggest the word picture of Revelation 3:20 where Jesus stands outside the door of people who believe in him without realizing how confused they are about how good he is or how much they need him.
Since the "rude joke" has gotten under my skin, I've been wondering how to respond to the breakdown in communication. Am thinking the problem probably isn't just one-sided. No one wants to hear, see, or believe bad news about themselves or those they love. Not the Christians in Laodicea (Rev 3:14-22); not those in the community who wanted nothing to do with that church; and probably not those of us who resent the joke others are telling on us.
So how do we even begin to get right the Good News that a Jesus who died the way he did wants "in" to save us from ourselves and from what we are missing?
Vote on whether you think this post is something you'll be thinking about:
135 Comments »